Customer Comments
Tegan (New York City, NY)
"I think that [the friend's recommendations] is the strongest feature of this so far, because if you hear your friend say this show's good, then you hear that 7 more of your friends think this shows good, then you think "Maybe I'll watch this show," so there is definitely that word of mouth, especially with television."
Garrett (San Francisco, CA)
"[Kovue] adds a whole new dimension to what your friends are watching. It's a really informed approach to watching TV. If I wanted someone to use the app I'd say, "Hey, we could link up our viewing schedules," or "We could take our fantasy teams a lot more seriously if we use this application to communicate with each other in real time."
"When I was back home I watched every Spurs game with my dad, now it would be nice to have that connection again with people at home and friends back home that are at different schools."
"When I watched Lost when I was in 8th grade, we were always interested in discussing what would happen next in terms of plot development, so we'd call each other up during the show--for at least the duration of the commercial-- and make predictions, we'd talk about characters, and there'd be a discussion. Then afterward, we'd call each other and talk for an hour about it...[KoVue] would've been great and useful."
"My friend and I were catching up on the seasons of Walking Dead over the summer, when we weren't in the same place. We were theoretically watching it together but apart at the same time, so I feel like it could've come into use then...talking about the show...making predictions [etc.]"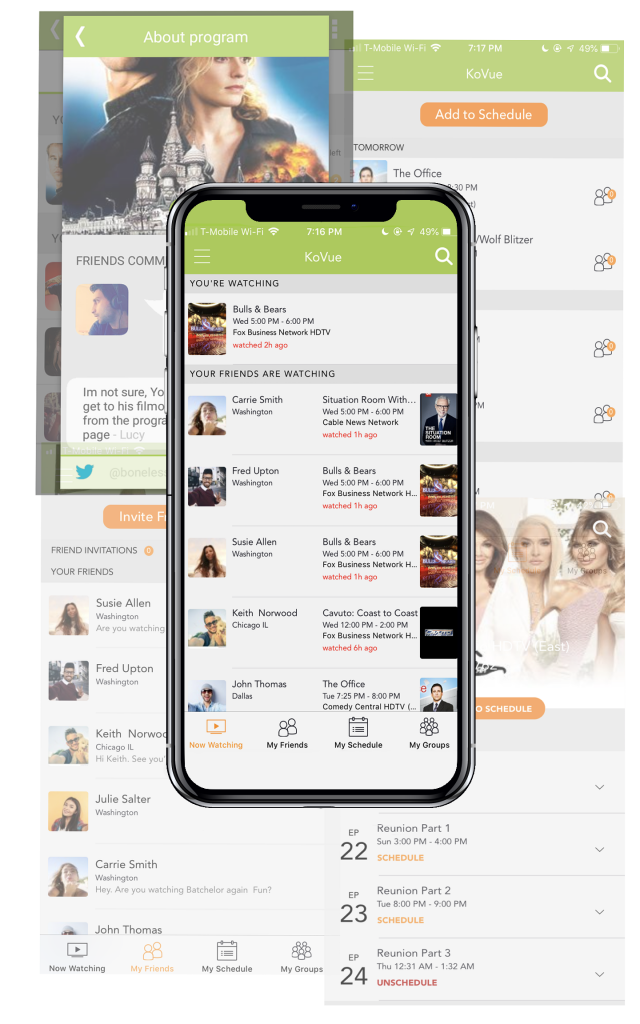 Special Features
Kovue not only lets you connect with friends through the App but also lets you connect with your TV by identifying shows your watching, reminding you times the shows are on, and sharing what you love to the ones you love.